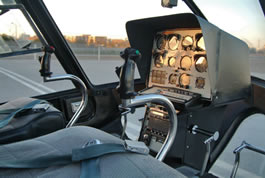 In 1965 the 28A was introduced from a factory located in Menominee Michigan, where Enstrom is still located. The exceptionally safe and successful "28" design line of helicopters has had few changes in its history, mostly being cosmetic. The 28A line had large doors, a flat windshield and a wraparound instrument panel. The letter C was added when a turbo-charger was added to the Lycoming 4 cylinder engine. The 0 was added as a suffix when the nose was shaped to a point and the instrument panel became a freestanding pedestal. Combinations of early Enstrom Helicopters currently flying are listed as 28A, 28C, 280A, 280C, with an experimental 28C-2 that used the instrument pedestal and introduced a soon to be very popular bubble windshield. In the early 80's Enstrom increased the power of their helicopters again. Now at 225 hp and gave the line the suffix F. The 28F are the higher-powered helicopter with the now standardized bubble windshield. The 280F still has the pointed nose, but in 1985 added fiberglass fairing and other decorative additions and added the letter X. Enstrom still produces both the 28F and the 280FX. In the mid-90's Enstrom, took their extremely successful and safe airframe design, widened and stretched the cabin to accommodate 5 people and replaced the engine with a turbine, labeling it the 480. Currently there are more then 700 registered Enstroms.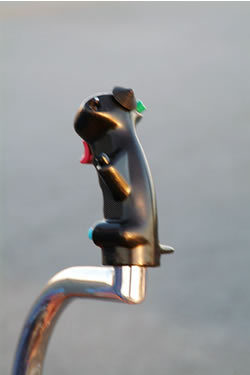 What makes the Enstrom so safe is a combination of items. First being turbo-charged allows the aircraft to be operated in high and hot locations. With a rotor head and blade system that weighs more then 300 pounds the Enstrom has an extremely slow and gentle hover and glide ability. The Enstrom's extremely impressive safety record includes virtually no time life on its main rotor blades or drive belt. Infact Enstrom has never had a catastrophic failure, a failure of its drive belt or main rotor blade separation! The Enstrom can not get into destructive helicopter operations such as ground resonance, mast bumping, retreating blade stall or lack of tail authority. Flight safety techniques taught to avoid these dangerous situations in other helicopter designs are only a mention to Enstrom pilots. Even primary flight instruction in an Enstrom typically includes full touchdown landings without power, demonstration of low rotor RPM, and "low G-push overs" that are rarely taught in other helicopters. There are stories of in-flight collisions that have resulted in destruction or loss of the tail rotor that ended with an uneventful and safe landing. With no exposed main rotor control rods or swash plates there have been reports of Enstroms accidentally being flown into wires and then successfully flown out!
With the ability to fly 3 people, 60 pounds of baggage, full fuel for 2 ½ hours at speeds of more then 100 miles an hour makes the Enstrom an extremely popular helicopter to train in and to own!